Khao Moo Daeng Pathom Lert Rod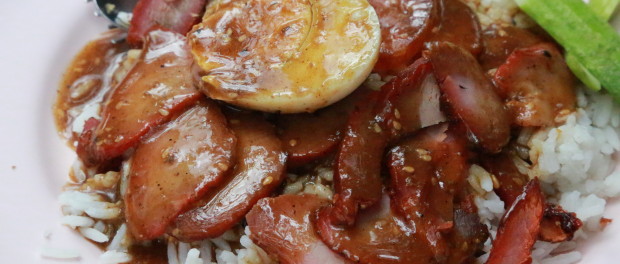 I have to admit that I tend to like some of these smaller vendors far into the more narrow streets (Soi) in Bangkok. Pathom Lert Rod is one of them, serving delicious Khao Moo Daeng (rice with barbecued red pork). On top they throw in pieces of delicious chinese sausage (kun chiang).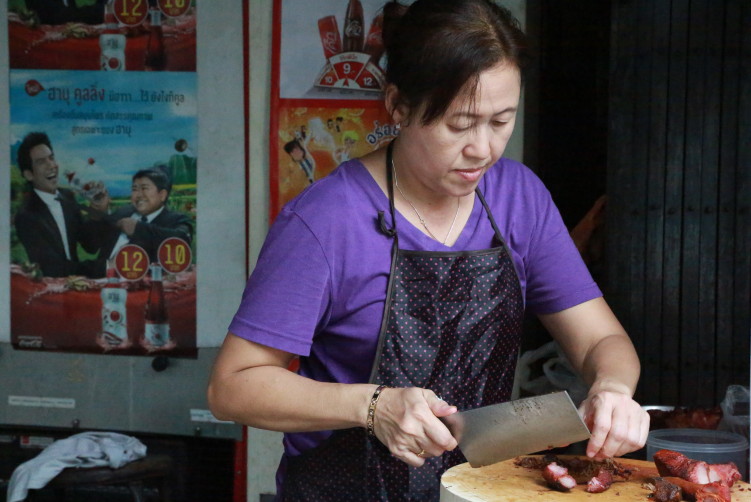 And this little stall, on the corner of  Soi Rang Nam and a small blind alley to the left when walking with Phaya Thai Road behind you, opposite Top Charoen eyeglasses and just before you get to Rachaprarop Road, is serving a very tasteful plate of roasted pork, sausage, the typical and slightly sweet sauce/gravy with some pieces of green thrown in. Absolutely worth a visit. Don't forget to throw in an egg (kai) on top. There is nothing here that will ruin you and your tastebuds will be dancing.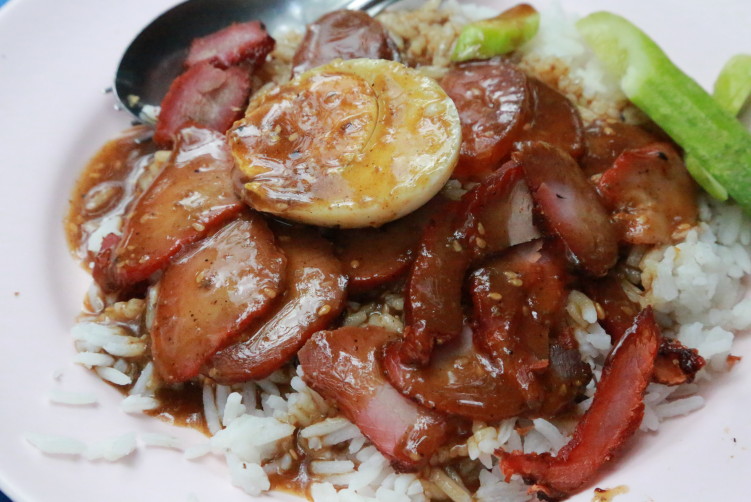 A simple dish on the paper, but to perform is not as easy. The first thing to get right is of course the rice, the second thing is that the red barbecued pork isn't tasting to much or has become dry, the third easy trap is to go for the cheaper kun chiang that has a slightly rubbery feeling to eat. Pathom Lert Rod is not failing on any of those issues. And when they also serves a sauce or gravy that isn't overly sweet, as many do it, and even include a minor spiciness, there is only one thing to say. This small family really delivers, and they do it for 35 Bath a portion. It doesn't get much better than that.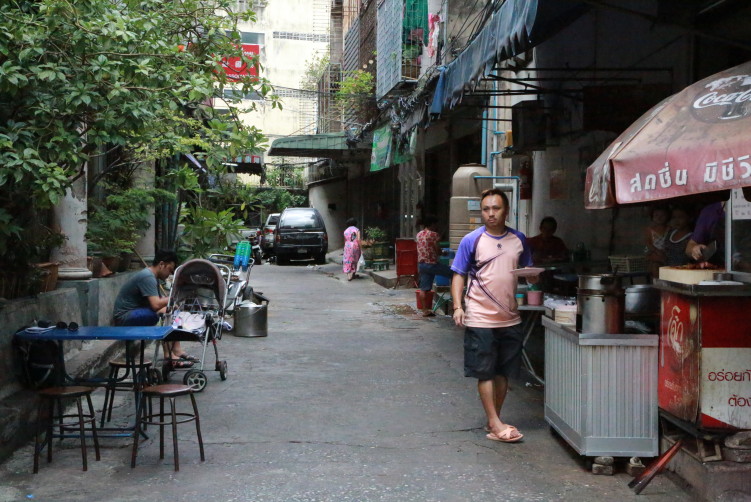 So this little stall, with a certain fame among the local connoisseur's, is worth your visit. An when in the area, you should also head back in the direction where you came from, or you do the two visits in the opposite direction, and go for Jakkee in Soi 7, who also have the Shell Shuan Shim recognition for their food.
Both of them are your breakfast and lunch spots, and especially Pathom Lert Rod is a rather small vendor that might run out early on their goodies.
Name: Khao Moo Daeng Pathom Lert Rod
Food: Khao Moo Daeng. They also have kra paw pla which is fish maw soup, but I haven't tasted it. It will be for my next visit.
Price: 35 Bath
Open: Daily 8.30am – 2.30pm
Phone: 02-246-5482, 089-115-1012
Address: Almost at the end of Soi Rang Nam (sometimes written Rangnam) coming from Phaya Thai Road.
How to get there: Take the BTS to Victory Monument and walk from there. Meaning you walk away from the Monument when you have reached the street, take to the left at Soi Rang Nam and walk it almost down to the end (probably something like 7-8 minutes). It's on the corner of a small blind alley opposite Top Charoen Eyeglasses.