Kuay Jab Nam Sai in Rang Nam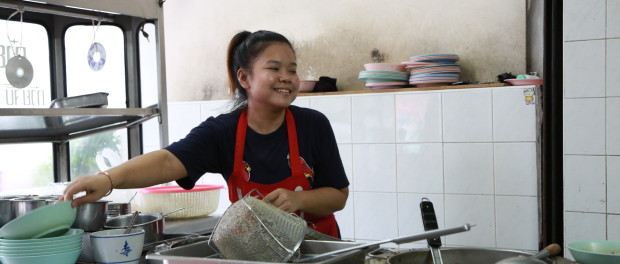 The kuay jab nam sai (noodles in broth) restaurant in Soi Rang Nam has more than 10 years on it's back. The soup has a peppery spiciness and a rich garlicky aroma. Not for the faint of heart, a full order of kuay jab here includes pork maw, entrails, liver, heart, tongue, crispy pork and pork pieces. Unlike many other places, the taste of the pork is sweetened by some pre-marinating.
Kuay jab (also written Guay Jaab) is a Thai-Chinese noodle dish, usually served in small shop houses, many of them in Chinatown, but also elsewhere, like here in Soi Rang Nam. The noodles are curled-up flat rice noodles. The pork parts include quite some alternatives depending on where you eat it, from intestines like liver, lung, kidney, heart and brain to the more admired pork belly. But no matter where you eat it, you can leave things out and and ask for more of something. In other words you can say no inside if you prefer to leave the intestines for other customers.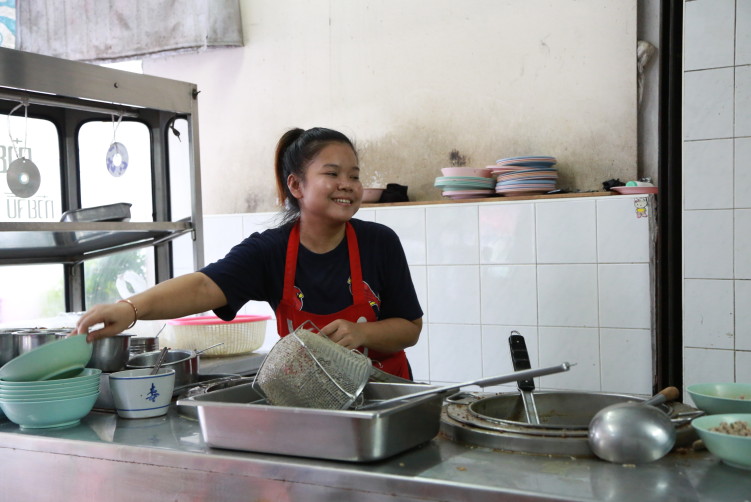 Personally I take what I get most of the times, as long as I'm served somewhere where I know the intestines are cleaned properly. Here, in Soi Rang Nam they do just that. The pork parts include minced meat as well as some thin slices of meat, together with a couple of the "close your eyes" parts for many westerners. But don't let the intestines stop you from ordering a bowl. It's delicious and it's easy to skip the parts you don't feel for trying. You can also say no inside as mentioned. Be aware that the broth has a rather addictive nature.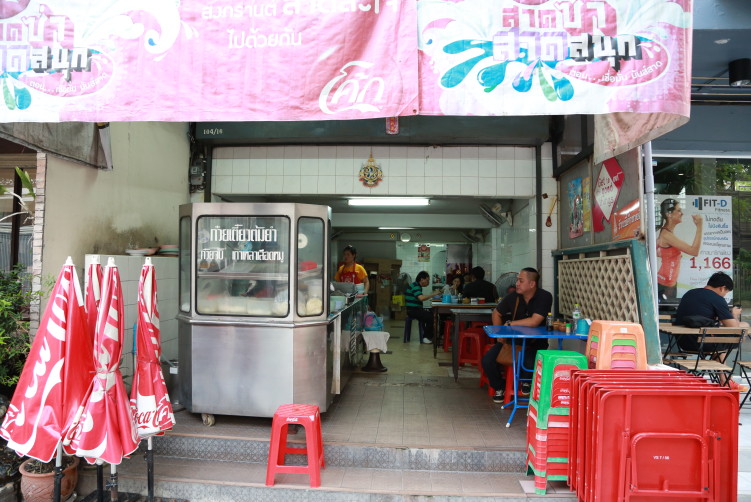 Nam sai means clear broth while nam khon, an alternative for kuay jab not served here, means with a thick soy sauce gravy. Anyway, guay jab is the rough brother in the noodle soup family. No compromises. It's porky and you find no vegetables to clean your mouth, as with the yen ta fo. Kuay jaab is basically a celebration of the pig. If it's healthy or not, I don't know, but a good guess would be no. But taste wise, it's really invite your taste buds out for a party. It's one of those dishes you really will remember if you're in Bangkok as a tourist.
It's also the least glamorous of all the noodle soups. By comparison to all the other different noodles – like bamboo, noodles with seafood or the famous boat noodles – kuay jaab is a challenging opportunity for some senses. It's just so porky, and the vegetables isn't there to clean your gum,  and it might include some intestines (depending on you). But hey, those intestines, at least for the broth, is why you'll love the taste. Leave the pieces you don't like and dig inn on the rest. Bon appetite!
Name: Kuay Jab Nam Sai (sometimes written Guay Jaab Nam Sai)
Food: Kuay Jab (sometimes written guay jaab)
Open: Mon-Sat 7am-5pm
Price: 35 Bath
Phone: 02-642-5531
Address: 104/14 Soi Rang Nam, beside Sri Ayuthaya School
How to get there: Take the BTS to Victory Monument. Walk into Rang Nam and continue for about 5-6 minutes, pass the King Power complex and continue for another 100 meters, look for the pink (solskjerming). See notes under Victory monument, number 5.