Hoy Tod Chaw Lae in Thong Lor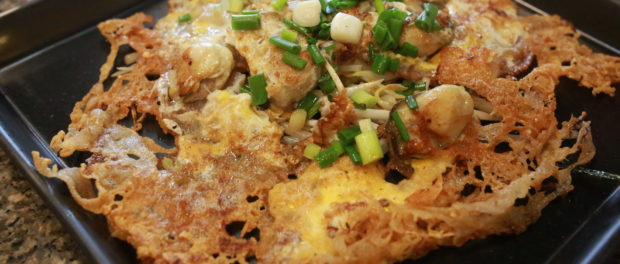 Hoy Tod Chaw Lae in Soi Thong Lor is a humble eatery, even if they state themselves to be among the five best Pad thai spots in the world. That said, they are famed for their shrimp pad thai and the stir fried mussel and oyster omelet (hoy tod), with plenty of appearances on TV-shows.
All the dishes I have tried at Chaw Lae has been good to very good.
Personally I find the crispy hoy tod (see the upper photo to the left) with eggs and rice flour served as a pancake to stand out, crispier than what is common in for example Singapore. It is also served with slightly heated bean sprouts (normally served raw) and with chopped spring onion.
Chaw Lae also serve a softer version of hoy tod called aor-suan (see lower photo to the left) which is a bit mushy and comes on a hot iron pan, quite often a preference among Chinese.
Chaw Lae use less than normal flour or starch to the amount of egg in the batter, which gives a very good texture. If you're a first timer in the world of mussels/oyster omelets, I suggest you go for the crispy version. Both versions comes with a homemade chili sauce, mild and slightly tangy.
The pad thai is good, but unfortunately they have a habit of using to much sugar. On the other hand, I give them a big plus for using good quality seafood. Thai's probably love it as they have a rather sweet tongue, but personally I find pad thai much more appealing when it is bit more tangy. The noodles have the right texture.
The plates are slightly more expensive than what you pay elsewhere, but in trendy Thong Lor, it's close to a steal, especially given the quality of the food. They also have chicken and squid to throw in for those preferring surface protein. The condiments on the table are mostly for the pad thai – peanuts, chili flakes, fish sauce, vinegar etc. And they are meant to be used.
The atmosphere is friendly and the service is actually quite fast. My guess is that you come back for another plate of hoy tod as soon as you have tested it once. It's one of those things in life that easily can be an addiction.
Hoy tod is a quite common dish around Bangkok, and three very good spots in Bangkok are Nai Mong Hoy Tod in Chinatown, a hoy tod spot in 32 Phadung Dao (also Chinatown) and Vulcanic Fried Mussels & Oysters in Bang Rak.
Name: Hoy Tod Chaw Lae
Food: Hoy Tod, Aor-Suan, Pad Thai and a few other dishes
Price: 70 Bath +
Phone: 085 128 3996, 089 448 6289
Address: 25 Sukhumvit soi 55 (Soi Thong Lor)
How to get there: Take the BTS to Thong Lor. Take exit #3, walk down the stairs and take to the right. Then walk for 40 meters and take to the left into Soi 55 (Soi Thong Lor). Walk another 50 meters and you see it on your left side.