Delicious Guay Jub at Khun Dang Guay Jub Yuan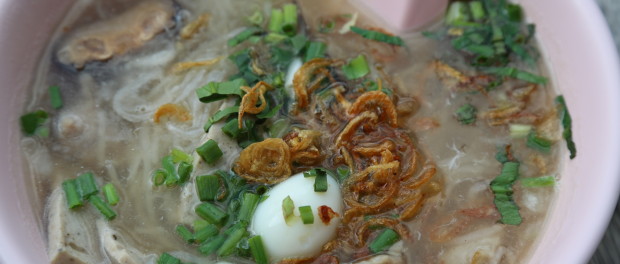 The Phra Atit Road is just steps away from Khao San Road, but it's still a genuine Thai neighborhood. The three or four minutes walk from the famous backpacker area is enough to keep the big masses of party goers away. And food wise that's a good thing.
Guay Jub Yuan is a popular Vietnamese dish based on rice flour noodles. But unlike the Vietnamese version they have a rounded edge. They are soft and a bit sticky. The soup thickens slightly during the cooking process. At Khun Dang Guay Jub Yuan the noodle soup has a unique flavor due to the use of some special ingredients from Ubon Ratchathani. The black pepper used comes from Pune.
The menu is definitively pork based, and the pork meat is tenderized by the long cooking process, slowly simmering until it easily falls of the bone. The variation is mostly about the toppings, and the Thai version comes with dash of fresh blood. I ordered with mushrooms and a delicious quail egg on top. The delicious broth is sprinkled with fried shallots, onion and parsley.
Khun Deng has been in the existing shophouse for less than three years. Before that they where situated about 800 meters away. The reason behind the move was the need of more tables and chairs to serve their customers. The new location is just a short walk from the Phra Sumen Fort.
The noodle dishes are cooked one by one along with your choice of different toppings, like eggs and mushrooms, meaning you get an absolutely spot on chewing factor.
Even though portions are not very big, the slightly gooey soup is just amazing, plus the moo yor (sausage) is peppery and fragrant thanks to the quality pork meat. If you're in for a steamy quarter, choose the inside seating. Personally I prefer a seat on the footpath.
Khun Deng Guay Jub Yuan – roughly translated to Mrs Red's Flat Noodles is always a busy place with high turnover, meaning fresh ingredients. You might find a couple or two of the tatooed backpackers exploring the outside life of Khao San Road, but luckily they don't come in masses. It's still very much a local dining atmosphere. What you get is a genuine lunch with Vietnamese tones in the Banglamphu area, the old part of Bangkok. If it's filled to the rim when you arrive, be aware that the tables free up rather quickly as Thai isn't into long lunches. They eat and go.
https://www.handdy.com/accounts/ order now Name: Khun Dang Guay Jub Yuan
http://sanfordbiggers.com/bio click here Food: Guay Jub (Noodle soup with pork and egg (guay jub nam sai) – Here used Guay Jub as in the name of the vendor, but it is also written Guay Jab, Guay Chap, Kuay Jab, Kuay Jub or even Kuay Chaps due to translating errors of the Thai alphabet. Most common is Kuay Jab or Guay Jub.
generic viagra Price: Around 40 Bath a bowl
cheap generic viagra Open: Mon-Sat 11am-9pm
viagra buy now Phone: 085-246-0111, 089-056-5777
Address: 68 Phra Athit Rd
GPS : N13 45.735, E100 29.619
How to get there: From downtown Bangkok take BTS to Vicotry monument and taxi from there. Taxi all the way if outside rush hours. It's a two minute walk from to the Phra Athit pier, on the corner of Soi Chanasongkhram that joins to Soi Ramburttri.
The Banglamphu area
The first palace in Banglamphu belonged to Princess Chakjesda, sister of Rama I's Crown Prince Phrarajwang Bavorn Sathan Mongkol. Today, only a small part of the wall has survived the modernization. It stands on Phra Sumen road, opposite to Phra Sumen Fort.
The Banglamphu area and the Phra Arthit Road is part of a history dating back more then 2 centuries, a time when Bangkok was selected to be the next capital of the Siamese Kingdom (Thailand). The fort was build in 1783 to defend agains any possible naval invasion. 14 of these octagonal brick-and-stucco watchtowers was built and punctuated the old city. Phra Sumen Fort, is apart from Mahakan Fort, the only one still standing.
You can still find some old classic buildings in a colonial style in the area, and next to the Phra Sumen Fort, on the eastern side, is Wat Sangvej Printing School. This century-old building is also where they produced the early editions of textbooks in Thailand.
Behind this building is the narrow canal called Bang Lamphu, a name from the trees that covered the area a couple of hundred years ago. The canal was dug by hands during the reign of King Rama I in the year 1782 and it took 10,000 Khmer laborers to complete it. This canal is also where Pridi Phanomyong, Thailand's stateman, once cruised and distributed his leaflets that led to major political changes later on.
The Lamphu tree had disappeared from the minds of local people until they found one in 1997. This tree is believed to be more than 100 years old. The Lamphu tree has vertical roots that grow towards the sky and is growing on swamp land. It's also a tree which fireflies gathers on.
Entrance: Free
Opening hours: 24/7
Address: Phra Athit Road
How to get there: It's outside the mass transport systems, so the alternatives are taxi or buss, or you use your legs.