Joke Prince serves delicious rice porridge
Recommendation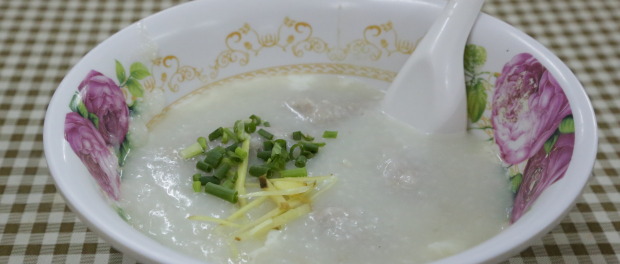 Rice porridge brings a boring sound to westerns, but thats before trying the Thai way. You find Joke Prince in a small dark alley, the location of the former Prince movie theater showing questionable movies, in the Bang Rak area. This is one of Bangkok's absolutely best places for rice porridge. Be ready for an amazing mouthful.
Joke (Jok) is the Thai version of the Chinese rice congee, a name also used in many Bangkok resto's with Chinese immigrants. It's basically rice porridge with a touch, with fresh ginger slivers, cilantro and some tasteful balls of grounded pork, together with an egg that comes with options. And of course, there are some other alternatives.
The porridge is smooth and soft. The pork is extremely tasty and the dish has a smoky flavor, due to using a charcoal stove.
When it comes to the egg, I prefer the fermented black egg (sai khai ken), or a raw one (sai khai) that quickly gets cooked by the porridge. Just stair it into the porridge when served. Both versions are delicious. The raw egg adds extra creaminess to the dish. When it comes to joke, the combinations are plentiful, but personally I prefer pork meat before pork entails such as liver or kidney. They also use pork stock in making the porridge.
In essence you have the options to put together your own version. And if you don't want pork intestines just tell them no inside when ordering. What you shouldn't forget is to add some white pepper powder on top of it when the bowl is placed in front of you. It's also popular to order Pa Tong Ko, meaning Thai donuts (yu tiao in Chinese), to drop in the joke.
Overall the dish is, to use the wine language, full-bodied and has a smoky flavor you only get by using a charcoal stove. Still, it's a light meal.
Joke Prince have been in the same location for more than 50 years. Very popular with locals, and you'll soon understand why if you have a sit down. 
Joke is a rather humble dish, known as a typical breakfast dish for locals. But from my experience, including an unknown number of visits with cuing at different hours, Thai's also eat joke for lunch or dinner. If you haven't tasted joke, or rice porridge, you better do it sooner rather than later, especially if you're just on a short holiday. I bet you get back for another bowl before heading to the airport. Don't even think that there are so many more interesting option, so why should I spend my time eating rice porridge in Bangkok. Yes, there are many options for diving into great dishes in Bangkok, but Joke is actually one of them. But don't forget to order an egg and to sprinkle it with white pepper.
Name: Joke Prince (also written Jok Prince).
Food: Joke (Jok) – rice porridge/congee) with options
Price: 35 Bath, plus a few bath for pa tong ko and your choice of egg. I suggest you order both add-ons.
Open: Mon- Sat 6.am – 12 pm, and 5 pm – late. Be aware that the closing time changes from day to day depending on availability.
Phone: 089-795-2629
Address: 1391 Charoen Krung Road
How to get there: Take the BTS to Saphan Taksin. Take left into Charoen Krung Road. Continue to Soi 44 where you cross the road and you'll find it on the other side. The stall is nestled in a narrow lane between buildings.