Khao Phad Pu Chang Phueak in Chinatown is good crab fried rice (Khao Pad)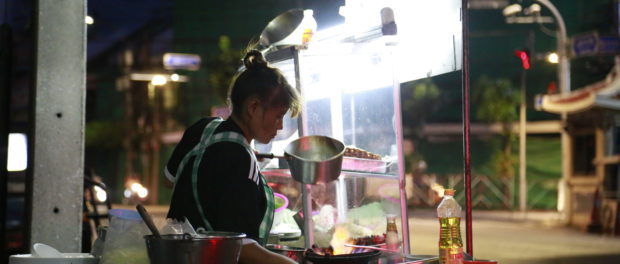 Chinatown should be your first stop with an empty stomach if in Bangkok. The street cart Weng (Woeng Nakhon Kasem) stirs up a good plate of crab fried rice (Khao Phad Pu/Poo). The fish maw on the other hand was a rather average one. A bit of a mystery that they are rated in the Michelin Guide as one of only two hawkers in the guide.
The rice is slightly oily as it should be. The white chunks of crab meat is well prepared so you don't have to pick shells or bones from you tongue. Most likely, the chunks of crab meat is from the standard bags sold at fish markets. Anyway, the crab meat was absolutely decent and the female Chef at Weng (Woeng Nakhon Kasem) knows how to prepare it. It is a correct fried rice platter and the egg is also very well integrated. You also get a slightly smokey aroma and a small bush of coriander on the top. A good choice as it goes well with with crab meat.
Their fried rice with chunks of white crab meat was miles ahead of their fish maw.
The fish maw (fish bladder) wasn't anything to write home about. Pretty standard at best, slightly harder in texture and not the smooth texture you get at for example Xia Hu Chalam (Xie Shark Fin) along Yaowarat road, just a five minutes walk away. You find them outside Haki Lim Hieng, close to the old market. Ah Ou Bangrak in Bang Rak, not to far from Asiatique, is another great spot for fish maw.
Weng (Woeng Nakhon Kasem) also have stir-fried crab noodles and stir-fried fish maw, which I didn't taste this time.
The Michelin Guide issues
It is a bit of a mystery to see that Weng (Woeng Nakhon Kasem) is represented in the 2020 Michelin Guide edition. There are quite a few vendors selling better fish maw both in Chinatown and in Bangkok. And yes, the crab fried rice is a good and correct dish, but you have better vendors. The crab meat is absolutely tasty, but an ingredient you can get better at other spots. One question is therefore: Why Weng (Woeng Nakhon Kasem) and not some of the other vendors selling a very good crab fired rice?
Also, and this is my main concern. Weng (Woeng Nakhon Kasem) is a street food vendor with a push cart in front of a house along the main road. The Michelin Guide policy in the first edition (2018) of the guide was that vendors needed to have a permanent address to be included. Of course they broke that rule already in the first edition when including the fabulous vendor Uan Pochana. I have not seen any changes to their policy in either the second edition (2019) or the third edition (2020). And I can promise you, Weng (Woeng Nakhon Kasem) certainly doesn't have a permanent address. Weng (Woeng Nakhon Kasem) is a 100% hawker, see photo below. In other words, just like the other push carts or street food vendors without their own housing in Chinatown or elsewhere in Bangkok.
If the 2019 edition with two hawkers was a start to include hawkers in the guide, I could understand the limited number of them represented in the guide, but the 2020 edition shows that this isn't the case. And when the Michelin Guide by their performance actually rank Khao Phad Pu Chang Phueak as one of the two best hawkers in Bangkok, as they only have included two in their guide, it is as absurd as it can be. I could easily name 2-300 hawkers that should be in the guide before Weng (Woeng Nakhon Kasem). And just to say it, I wouldn't hesitate a second to eat at Weng (Woeng Nakhon Kasem) again, but they are miles away from being one of the best hawkers in Bangkok. What the Michelin Guide is doing here is just ridiculous when there is so many far betters stalls to eat at.
I wrote about this issue already in my article on the Michelin Guide 2018 where I used Nay Lek as an example, one of the three really good Kuay Jab vendors in Chinatown that should have been included in the guide if it was any fairness in this world. I wrote:
"The only reason why the legendary Nai Lek is not in the guide is the argument that they don't have a permanent address. They need a permanent address to be in the guide. It is quite difficult to read this artificial distinction in any other way then TAT has not finished it fight for banning street food in Bangkok. Many of the best street stalls, like for example Nai Lek have been in the exact same spot for years. Some of the street stalls have been on the same spot for decades. And just to show that the distinction isn't really applied, Uan Pochana doesn't have an address as well, they are just standing in the street at the former outside entrance area to the abandoned theater."
For those who isn't aware of the history here, the Tourism Authority of Thailand (TAT) has for long tried to abandoned the real street food vendors (hawkers) in Bangkok. In 2018 TAT had a budget of 144 million bath to promote the Michelin Guide certification, so there is a very close link between the guide and the tourism authority. The TAT has somewhat moderated themselves in 2019 on the ban, but nobody should really be in doubt that their policy still is to remove the street stalls from the streets.
And for the Michelin Guide, with all the money they got from TAT, to demand a permanent address really fits the TAT policy of banning street food very nicely. Nobody should be in doubt of the close cooperation between TAT and the Michelin Guide. Therefore, I was rather surprised to se the first edition with Uan Pochana in the guide and also to see Khao Phad Pu Chang Phueak in the second edition. I had hoped it was a start to include hawkers and to see that the Michelin Guide stood on their own feet when selecting the vendors to be in the guide. But with the 2020 edition, there is no hope left. In my view, the Michelin Guide has obviously become a tool for TAT.
And let me also point out that Uan Pochana should be in the guide, they serve great Guay Jab/Kuay Jab, as I also wrote in my 2017 article on the Michelin Guide hitting the streets of Bangkok. The huge problem with the guide is all the great hawkers and vendors with a permanent spot but without a permanent address that should have been in the guide as well when they have started to include hawkers. Why not Nai Lek mentioned above or Guaythiew Lod severing aboslutely lovely stuffed flat rice noodles, stealing a few square meters on the sidewalk outside a Seiko shop along Yaowarat road, a few meters away from the design hotel Shanghai Mansion. And there are plenty of other really excellent high quality hawkers both in Chinatown and Bangkok that would have deserved to be in the guide. How come the Michelin Guide doesn't rate those when they allow the push cart Weng (Woeng Nakhon Kasem) into the guide?
The Michelin Guide has become a hit and miss guide for foodies, and with the 2020 edition the hope for a fair and good guide that really includes street food that this city is so famous for can be forgotten. Reading the 2020 edition of the guide is a huge disappointment, even if there are some good recommendations as well. But with all the resources this guide gets from TAT, it seems that their main priority is to support TAT and to recommend some comfortable chairs for the hordes of tourists coming to Bangkok without good knowledge of the cities food scene. Unfortunately, they probably get away with it.
Name: Weng (Woeng Nakhon Kasem) – Khao Phad Pu Chang Phueak (ข้าวผัดปูช้างเผือก)
Food: Chinese/Sino-Thai
Price: Dishes are mostly 90 bath, but fish maw is 140
Open: 7 pm – midnight. Closed Mondays. Sometimes it opens 6:30 pm, but then you might be in for up to a half an hour wait.
Phone: +66 81 812 5067
Address: It's a cart that is on the opposite side of the Yaowarat road number 142
How to get there: The new BTS station Wat Mankorn is open for testing, but will open permanently later in 2019. Until then you have to take the MRT to Hua Lamphong station and walk from there. A 20 minutes walk that reduces to 10 minutes with the new stop Wat Mankorn.